Master All Red Wine Club Recipes - May 2023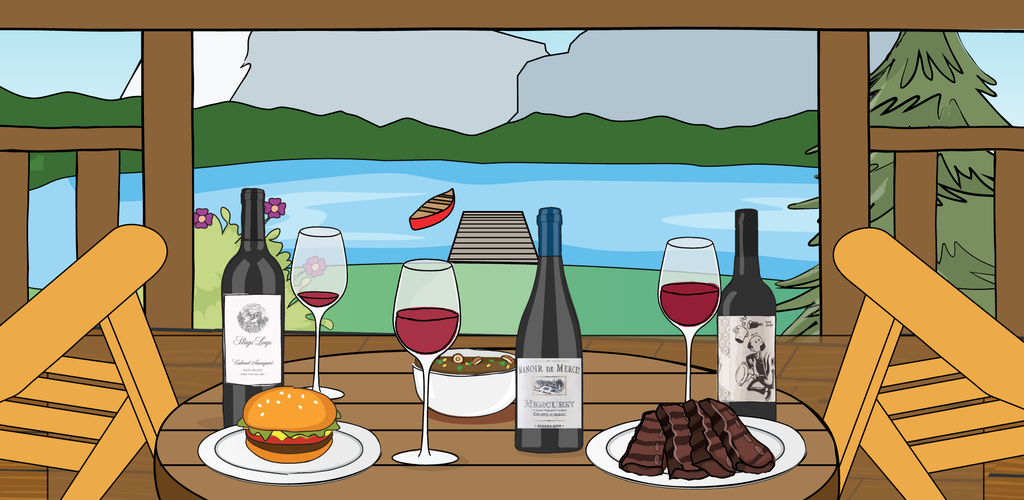 Below you will find 3 recommended pairings, 1 for each of your wines. Enjoy!
Stags' Leap Cabernet Sauvignon 2019
Pairing:

 Grilled Portobello Mushroom Burgers
Recipe by: Adam Perry | Serves 2
Ingredients:
4 large Portobello mushrooms
4 burger buns
4 slices of medium strength blue cheese such as Stilton
1 red onion, sliced
4 lettuce leaves
Tomato slices (optional)
Condiments of your choice (e.g., ketchup, mustard, mayonnaise)
For the marinade:
1/4 cup balsamic vinegar
2 tablespoons olive oil
2 garlic cloves, minced
1 teaspoon Dijon mustard
Salt and pepper to taste
Directions:
In a small bowl, whisk together the balsamic vinegar, olive oil, minced garlic, Dijon mustard, salt, and pepper to make the marinade.
Clean the Portobello mushrooms by gently wiping them with a damp paper towel. Remove the stems and discard them.
Place the mushrooms in a shallow dish and pour the marinade over them. Let them marinate for about 30 minutes, flipping them halfway through.
Preheat your grill or grill pan over medium heat.
Remove the mushrooms from the marinade and grill them for about 4-5 minutes on each side or until they are tender and slightly charred.
During the last minute of grilling, place a slice of blue cheese on top of each mushroom to let it melt.
While the mushrooms are grilling, toast the burger buns on the grill or in a toaster until they are lightly browned.
Assemble the burgers by placing a grilled Portobello mushroom with melted blue cheese on the bottom half of each bun.
Top the mushrooms with sliced red onion, lettuce leaves, tomato slices, and any other desired condiments.
Place the top half of the bun on the assembled burger.
Serve the Portobello Mushroom Burgers immediately and enjoy the flavorful marinated mushrooms with melted blue cheese!
Manoir de Mercey Mercurey 2020
Pairing:

 Mushroom Risotto
Recipe by: Adam Perry | Serves 2
Ingredients:
1 ½ cups Arborio rice (or other risotto rice)
4 cups vegetable or mushroom broth
1 cup dry red wine (such as Pinot Noir)
1 medium onion, finely chopped
3 cloves garlic, minced
8 ounces mushrooms (such as cremini or button), sliced
2 tablespoons butter
2 tablespoons olive oil
½ cup grated Parmesan cheese
Salt and pepper to taste
Fresh parsley or thyme leaves for garnish
Directions:
In a saucepan, heat the vegetable or mushroom broth over medium heat and keep it warm.
In a separate large, heavy-bottomed pan, heat the butter and olive oil over medium heat.
Add the chopped onion to the pan and sauté for about 5 minutes until it becomes translucent.
Add the minced garlic to the pan and cook for an additional 1-2 minutes until fragrant.
Add the sliced mushrooms to the pan and cook for about 5-7 minutes until they are tender and lightly browned. Set aside a few cooked mushroom slices for garnish if desired.
Add the Arborio rice to the pan and stir it in with the onion, garlic and mushrooms, allowing the rice to toast slightly for about 2 minutes.
Pour in the red wine and cook, stirring frequently, until the wine is mostly absorbed by the rice.
Begin adding the warm vegetable or mushroom broth, one ladleful at a time, stirring continuously and allowing each addition to be absorbed before adding more. Continue this process for about 20-25 minutes until the rice is al dente and has a creamy consistency.
Stir in the grated Parmesan cheese and season with salt and pepper to taste.
Remove the pan from heat and let it sit, covered, for a few minutes.
Serve the Mushroom Risotto in bowls, garnished with the reserved mushroom slices (if desired) and fresh parsley or thyme leaves.
Pair the Mushroom Risotto with a Manoir de Mercey Mercurey to complement the earthy flavours and rich complexity of the dish.
Seghesio Old Vine Zinfandel 2018
Pairing:

 Smoked Brisket
Recipe by: Adam Perry | Serves 2
Ingredients:
4-6 pound beef brisket
Dry rub (your choice or see note)
Wood chips (such as hickory or mesquite) for smoking
Barbecue sauce (optional)
Directions:
Preheat your smoker or grill for indirect heat to around 225-250°F (107-121°C).
Trim any excess fat from the brisket, leaving a thin layer for flavor and moisture.
Generously season the brisket with your preferred dry rub, covering all sides.
Soak the wood chips in water for about 30 minutes, then drain.
Place the soaked wood chips on the charcoal if using a charcoal smoker or in the smoker box if using a gas grill.
Place the seasoned brisket on the smoker rack or grill, fat side up.
Close the lid and smoke the brisket for approximately 1.5 to 2 hours per pound, or until the internal temperature reaches around 195-205°F (90-96°C).
Maintain a consistent temperature and periodically add more wood chips to keep the smoke going.
Once the brisket reaches the desired temperature, remove it from the smoker or grill and let it rest for about 30 minutes to 1 hour, tented with foil.
Slice the brisket against the grain into thin slices.
Serve the smoked brisket as is or with your favorite barbecue sauce on the side.
Note: For the dry rub, you can use a pre-made commercial rub or create your own by combining spices like salt, black pepper, paprika, garlic powder, onion powder, chili powder, and brown sugar to taste.
---